Our Veterinarians
Proudly serving the Scottsdale and Pinnacle Park areas, the Pima North Animal Hospital team of skilled veterinarians welcomes you to our practice. At Pima North Animal Hospital, it is our daily privilege to provide quality vet care to your cherished pet, with compassion and competence. We hope to ensure a positive impact on our patients, pet owners and the local community.
Bonnie Walker, DVM
Dr. Walker has been our medical director since 2003. A graduate of the Ohio State University's College of Veterinary Medicine, she completed an internship at the Hollywood Animal Hospital, Hollywood, FL.
Dr. Walker is a 24 yr. veteran of the U.S. Army Reserve Veterinary Corps. As a volunteer, she served on active duty during Operation Desert Shield/Storm. She especially enjoyed the challenge of working with the many military working dogs during her years as a reserve veterinary medical officer.
Dr. Walker has special interests in surgery, dentistry and behavior. Her experience, gentle and kind (yet firm, if needed) hand in handling pets (even potentially "difficult" dogs) and devotion to excellence in service and veterinary medical practice, has earned her the respect and appreciation of clients, patients and staff here at Pima North. In fact, our technicians have dubbed Dr. Walker the "German shepherd whisperer".
In her spare time, Dr. Walker enjoys exploring AZ on horseback, hiking, cycling, skiing, wildlife watching, cooking and home improvement projects. Dr. Walker is also a volunteer with the Flying Samaritans.
Dr. Walker's animal family currently only includes 3 horses, Phoenix, Montana, Trigger and her German Shepherd Winston.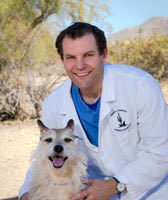 Dr. Bret Andrea
Dr. Bret Andrea joined Pima North Animal hospital in 2014. He is originally from Buffalo, NY and attended Penn State University for his undergraduate studies and obtained his veterinary degree at Cornell University. Upon graduation, he completed a one year internship in small animal medicine and surgery at Oradell Animal Hospital in New Jersey. Prior to moving to Arizona in 2013, Dr. Andrea worked for several years as a general practitioner in San Diego, CA.
Dr. Andrea's interests include internal medicine, radiology, neurology, dermatology, and emergency medicine. He is dedicated to ensuring that his clients have a good understanding of their animals conditions so they can make the best decisions for their family.
In his free time, Dr. Andrea enjoys hiking, biking, running, movies, attending concerts and most of all, spending time with his family including his wife, daughter, and their dog Olive.
Dr. Andrea very much looks forward to meeting you and your pets!
David Taetle, VMD
Dr. David Taetle came to Pima North Animal Hospital in 2008. A native of Maryland suburbs of Washington, DC, Dr. Taetle came to Arizona shortly after graduating from The University of Pennsylvania School of Veterinary Medicine.
His career has followed a non-standard path. Starting with an undergraduate degree in politics and government from Ohio Wesleyan University, he went to work on Capitol Hill for a United States Senator and finally received a master's degree in political management from George Washington University.
Dr. Taetle is certified in the University of Pennsylvania Hip Improvement Program (PennHip).
His passion is to care for animals by providing the highest standard of care in veterinary medicine, dermatology, dentistry and surgery. He believes that client education is of paramount importance in order to permit clients to make educated decisions and provide the best care possible.
Dr. Taetle's family includes his wife, two sons, three cats named Heidi, Luca and Sasha, their dog Haille and a desert tortoise named Squirt.
He enjoys reading, movies, outdoor activities and spending time with his family. He looks forward to meeting you and taking care of your family members!